Cincinnati Asian Pride 2019
Event Details
Happy Pride! National Association of Asian American Professionals will lead the first ever Asian Pride in Cincinnati Pride 2019. Bring your partner, family, friends and your PRIDE to celebrate with us. Note, all ethnicities are welcome to join us. Registration is required to keep a spot in the marching team. Link: https://naaap-cincinnati.silkstart.com/events/naaappride2019
We will provide a FREE beautiful NAAAP Pride T-shirt for the first 35 people who register. Please write your T-shirt size under "Other industry" in the registration link!
The team will meet at the intersection of Central Ave and W 7th St. at 10:00 am. We sent out an information email with all the event details to whoever registered.If you didn't receive the email please reach out to terry.wang@naaap.org . Please show up at the meetup spot at 10:00 am on June 22nd . National Association of Asian American Professionals (NAAAP) Entry Number is 92. The team waiting line will start from the intersection of Central Ave and 7th Street. Walk from there toward the west side of 7th Street. We will have a red limo and a Dragon you can't miss it. We will have shirts done by June 21st. Please Email Terry if you want to pick up your shirt before Saturday! Thank you all . See you on Saturday!
If you cannot find us, please feel free to reach out to your organization leader or Terry Wang, Sophy Jung. Look forward to seeing you all there!
Also, 10 volunteers are needed to staff at our NAAAP Pride beer booth for 2019 Cincinnati Pride Fest in Sawyer Point/Yeatman's Cove on Saturday, June 22nd 2019. There are two 5 person shifts available to sign up (see sign-up link below for specific times). We will be selling beverages for visitors as well as informing them about our organization and purpose. All tips will be donated to NAAAP Pride to support Local Asian LGBTQ+ Events.
Please sign up as a volunteer at https://www.signupgenius.com/go/5080e49aca823a0f58-2019
Note: NAAAP Cincinnati is so proud to be a pilot chapter for a new national program called NAAAP Pride. NAAAP Pride is here to empower, support, and engage the Asian American LGBTQ+ professional community and its allies by providing education, promoting visibility, and developing current and future LGBTQ+ leaders. We will provide resources and support for those in all stages of the coming out process and for those creating safe and affirming work and learning spaces where Asian American LGBTQ+ students and employees can live, work, and study safely, openly, and genuinely.
Thank you!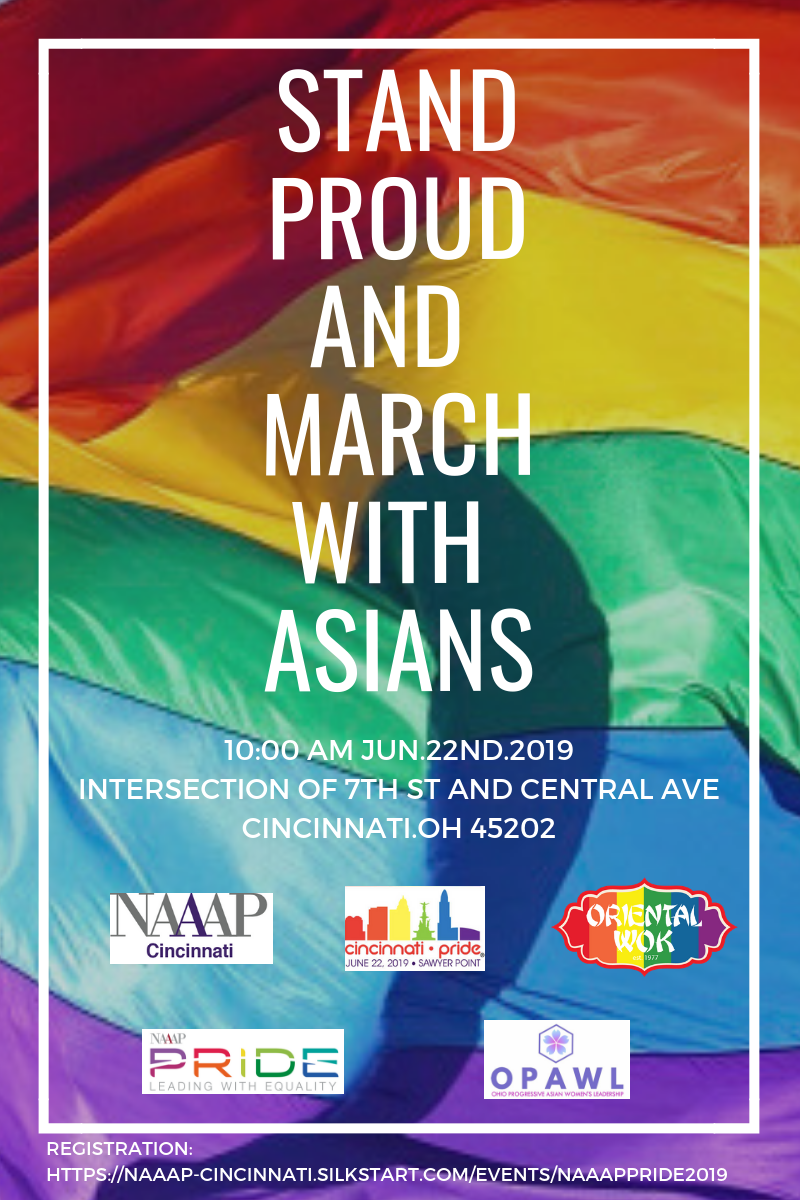 405 W 7th St, Cincinnati, OH 45203, USA